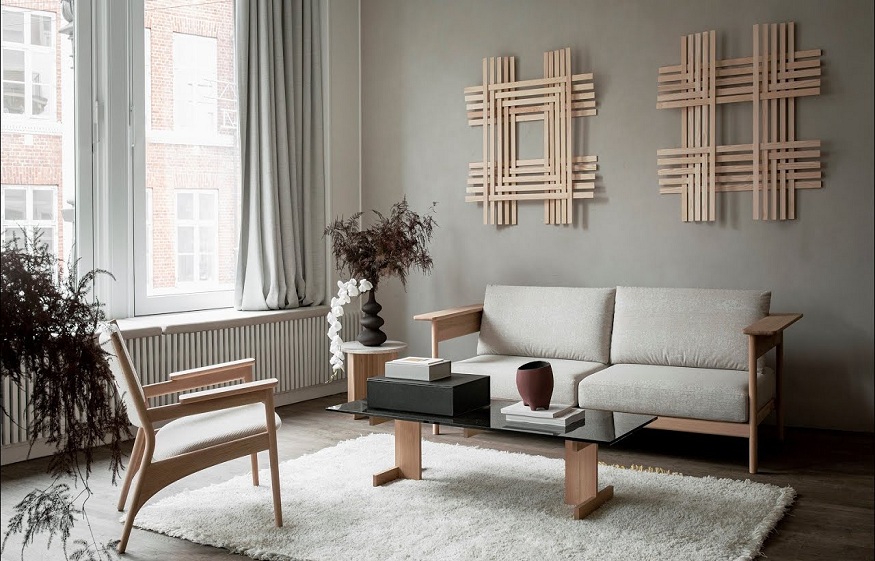 Since the beginning of 2021, the Japandi style has been blowing a zen and warm wind over the world of decoration. A combination of Japanese and Scandinavian inspirations, this new trend transforms our interiors into veritable cocoons of contemporary softness. Maisons du Monde reveals its tips for furnishing a Japanese interior according to the rules of the art.
What is the Japanese trend?
For some time now, there has been a strong comeback of Japanese minimalism. Furniture with clean lines, contrast between dark and light colors and spaces devoid of superfluous decorations: the idea is to have a totally decluttered and more soothing interior. While the idea is appealing, it can sometimes feel too cold and disembodied. Fortunately, imaginative minds had the good idea to mix Japanese style with Scandinavian decoration. This gave birth to a trend that is all the rage and which even had the right to the creation of the portmanteau word: japandi. We therefore keep the decorative codes from the land of the Rising Sun and combine them with those of the Nordic countries, which also focus on a stripped-down interior. With its wooden furniture, cushions and rugsin natural materials and neutral colors, the Scandinavian touch warms up the atmosphere.
The 5 basic rules for a successful Japanese decor
Forget the superfluous
To adopt the Japandi style, the first rule to follow is to sort out your interior. Before storing your decorative items and knick-knacks in the attic, take the time to identify a few functional pieces with clean lines that will look good in your new interior. A ceramic vase, a terracotta salad bowl or a rug with graphic patterns will have their place in your japandi decor.
Choose the right colors
For a successful Japanese interior, it is essential to adopt the right colors. White will be a must, but it is not an obligation. Beige, gray and light blue will all have their place in your half-Japanese, half-Scandinavian decor. More surprisingly, darker shades such as forest green or midnight blue can also adorn the walls of your japandi bedroom, provided they are used in touches on a single wall or in a niche.
Choose furniture carefully
Since the number of trinkets will be limited, your furniture will be the main vector of the Japandi influence that you want to infuse into your decoration. Choose no-frills designs that will give you stylish and functional furniture. To be sure not to make a mistake in the layout of your japandi living room, do not hesitate to mix the emblematic pieces from Japan and Scandinavia. By combining a Swedish design chair with a futon, you are sure to hit the mark!
Find the right materials
Wood is truly the flagship material of the Japandi style. If possible, prefer it clear for an ever brighter room. Oak, beech or fir, at Maison du Monde, we offer a selection of furniture made from species from sustainably and responsibly managed forests. For your curtains, plaids, cushions and rugs, also choose natural materials such as linen, cotton, wool. Bamboo and rattan will allow you to bring nuance to your new zen and hygge decoration at the same time.
Find the right lights.
Light is a key element in the japandi trend. Paper suspensions will be obvious to add a Japanese touch to your decor. Ceramic, opaque glass, bamboo or origami-style paper: your lights should offer you a caressing and soothing light.
Yes, white is soothing and suits a sleek interior, but the Japandi style requires hints of color.
In a Japanese living room, the TV cabinet will be the center of attention. The easiest way will be to opt for a model with a Nordic design and combine it with a futon and Japanese floor cushions for a perfect balance. Complete this relaxation area with a wooden coffee table for a comfortable living room. On the lighting side, the must is to multiply lighting sources to create a tailor-made atmosphere. Just be sure to keep in mind the idea of ​​balancing the two parent trends of the japandi style. Of course, some plaids to match your sofa and a soft rug will be welcome.
In the japandi room, the strong piece will be the bed. If you choose a Japanese-inspired one, be sure to pair it with a suspension and bedside tables with Scandinavian lines. If you opt for a Scandinavian bed, do the opposite. For your cushions, soft colors or geometric prints will be perfect.
Fancy a Japanese cuisine? Nothing's easier ! Wooden furniture will be essential to make this room a Zen haven. If you can, avoid hanging models. Indeed, they limit the entry of light and clutter the space. However, to respect the minimalist side of the japandi trend, you will need to have a large storage space to hide all the accessories that could accumulate on the worktop. If you have limited space, choose hanging furniture with niches that will ventilate the whole. Another possibility: run a wooden shelf along the entire length of the wall where your low kitchen units are located. You can then arrange plates, salad bowls, dishes and accessories.
A perfect combination of Japanese minimalism and the sense of comfort found in Scandinavian decoration, the Japandi trend has it all. Main imperative to adopt the Japandi style: clear the way! Then invite wood and other natural materials into your decoration and you can finally relax in your living room or japandi bedroom.